Eco-design platform
The platform was launched in Paris on 22 September 2009 with the support of ADEME and other partners: O2 France , LVMH , Inddigo , Pricewaterhouse Coopers , Bio Intelligence Service , Aximum , Evea , Veolia Environmental Services, Yves Rocher and Crédit coopératif .
http://ecoconception.oree.org.en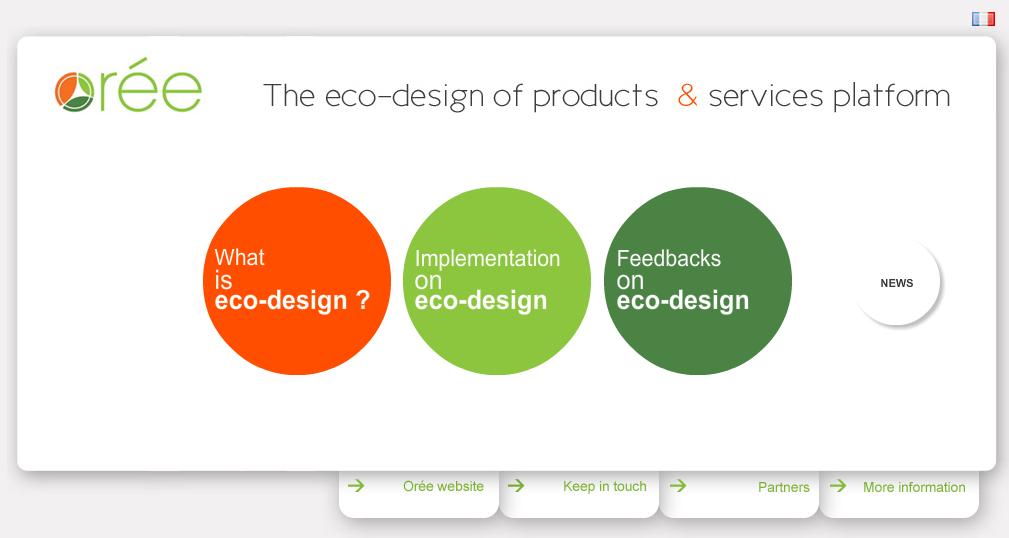 Every product and service impacts on the environment. The ecodesign is a preventive approach of continual improvement, which consists in reducing the negative impacts of the products during its whole life cycle, from the extraction of the raw materials to the product recycling, while conserving or optimizing its functionality and performance.
The ecodesign platform gives you the opportunity to discover on your own the ecodesign approach, and to help you in your progress if you are already familiar with the approach.
- The first part encompasses thematic articles: you will discover, among other topics, the methods and tools available today to set up an ecodesign process inside your organization; you will also learn about concepts such as the functional economy, environmental impacts and externalities, purchasing, industrial ecology, ecobuilding, etc.
- The second part deals with the role of the various authorities within a company. You will discover what your skills can bring to the ecodesign team.
- The third part offers concrete experiences of ecodesign process implementation in France. Divided into different groups, according to the activity sectors, such as electric and electronic products, consumption goods, buildings and public works, communication, they illustrate a large range of situations (various sizes and geographic areas). The emphasis is on the internal organization and the involvement of the various skills existing inside the company, as well as the tools they can use to implement the ecodesign project.

Listing conditions
If you have undertaken an eco-design approach in your company for a product or service and you wish to share it on the platform, Orée gives you (whether or not you are a member) access to an on-line questionnaire which, once completed, will be validated by a steering committee before being put online.
The information communicated in the experience feedback is the sole responsibility of the businesses concerned.